Usually, people of wealth have a certain amount of training on how to look and behave within their class. The social circles they associate in may encompass people in politics, finance, public popularity, and high positions of commerce. They may include people in entertainment who are regularly the media's focus. For obvious reasons, they must know how to dress appropriately for all situations. These men know how to dress like a lottery winner, even when not wearing the most expensive clothes in their wardrobe.
They are expected to know how to speak and carry themselves well. Because interactions are often global, they understand that a misspoken word, an incorrect color worn, and an unthoughtful gesture can be highly offensive in a culture different from theirs.
This article will share their tips for how to look like a millionaire, even if you are on a budget. There is no reason for you to ever look out of place.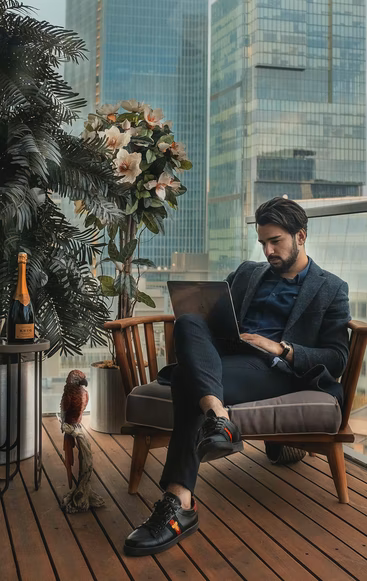 Photo credit: Emre Alırız
The Basics
Just like women, there are dress codes for men. Sometimes the wording on an invitation is confusing. For example, an event classified as "casual" and an event organized as " business casual" are entirely different. Before you assess your wardrobe, click the link above and become familiar with the various dress styles. A chic wardrobe is a wise investment. People will assume you are if you look polished and well put together. Never be second-guessed because you are sporting the wrong look.
Tip Number One
You should always have a light to medium weight gray suit wherever you travel. You need a shirt of light colors and a tie with a matching pocket square. It will take you through the business day and into drinks after work.
Boost it up a bit by changing to a bolder shirt with a darker tie and pocket square. That minor change makes your ensemble fine for dinner, a date, and most social events. However, It stops short of being acceptable for formal occasions.

Photo Credit: Ameer Basheer
Basics every well-dressed man owns
You should always aim for class and charm. Understated chic is appropriate and a bit mysterious. The following classics never go out of style. Minor adjustments to keep them trendy are something your tailor can do easily. These are the first purchases you should make.
You need a variety of these shirts. Of course, white is a must, but you can add several colors. If you are just beginning your collection go with:
White (two)
Blue (light blue and medium blue)
Pinstripes
Choose at least two bold colors

Leather Oxford shoes

Add a matching belt for extra points

Straight-fit jeans
2-button, single-breasted navy jacket
Gray suit
Camel coat
Silk tie and pocket square
Polo type shirts
Capris shorts to the knee
Leather sandals and sneakers
Tip number two
It is never better to buy cheaper pieces so you can get more of them. Cheaper pieces fool no one. They also will not last. Instead, buy one quality piece at a time and add to it as you can afford. Note: your eye is untrained at this level. A professional can spot the differences immediately. So can other people of wealth.
People who work in high-end fashion are well trained. Trust them to know how something should fit you. Never wear anything from the showroom without having it tailored to serve you. Include the right accessories.
Personal grooming is 100%
It is not enough to just have a nice haircut. A hairstyle must fit your face, and hair must be in good condition and free from damage. A person of wealth is expected to be well cared for. Eyebrows, mustache, and beard are styled to perfection. Skin care is critical. Moist and flawless skin is essential for everyone. Cosmetics are available specifically for men to help them always look their best. Manicures are required, and with summer weather, pedicures are also needed.
Tip number three
Keep your body in good condition. Visit your spa at least twice per month. Massage will help you relieve stress, and lotions will help you look your best on the beach.
Conclusion
A few quality wardrobe selections can take you a long way. Mixing and matching colors makes them more versatile. Don't be afraid to buy a quality piece at an estate sale or even a thrift store. If it is in good condition, you can save a bundle, and your tailor will have you looking great. How you feel about yourself comes through. Be well groomed and confident, and take the time to learn the rules of fashion. Once you get your look down, claim it, and you will always look like a winner.