As you hunt for the perfect engagement ring for your special someone, you quickly come to the realization that engagement rings are expensive. In fact, most modern engagement rings cost an average of $5,000. Of course, there are plenty of people who can't afford even that. So, how can you save on an engagement ring without substituting quality? You want to get your significant other a ring that's worthy of them and symbolizes your relationship. Here are some ways to save!
1.  Consider silicone instead.
Diamond rings are very expensive. At the very least, you'll probably spend $1,000 or more. With a silicone ring, you'll spend less than $100. That isn't to say that silicone isn't a great option, though. Silicone is notorious for being durable and fitting better than traditional metal bands. With so many colors, designs and textures, more and more couples are turning to silicone as an alternative to traditional metal bands. If your significant other works as a first responder, mechanic or any other profession where wearing metal can be risky, a silicone engagement ring is a great option.
2. Focus less on size.
The carat weight of a diamond isn't all that makes it valuable. In fact, it's more in the color and clarity of a diamond that makes it valuable. Instead of a large diamond, focus on finding one with a higher clarity and a low amount of color in it. That way, in years to come, the smaller diamond will retain value and be worth a pretty penny when your significant other trades it in for something larger. Because the quality of the diamond will be higher, your partner could also have the stone turned into a necklace or even placed into an anniversary ring. You'll find that your partner would much rather have a diamond that sparkles beautifully in the light rather than being concerned about the actual size of the diamond.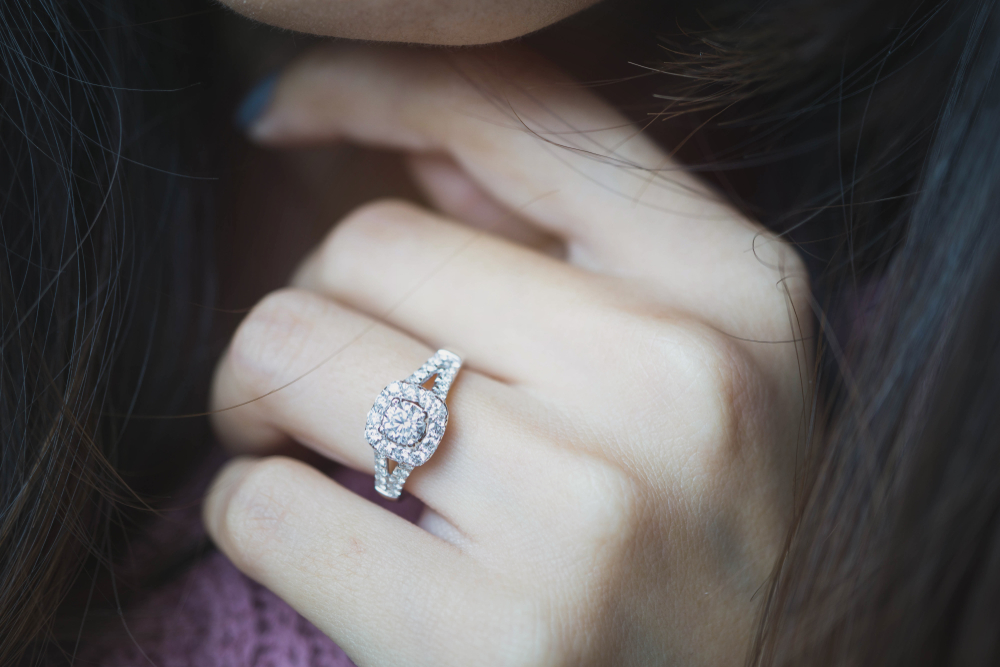 Source: Aleona/Shutterstock.com
3. Find a different setting.
Did you know that the setting you choose for your engagement ring can actually make the center stone look bigger or smaller, all without needing to break the bank? That's right! The halo setting, where smaller diamonds are placed around the outline of the center diamond, can actually make center stones look double their size! That's important for those who can't afford a large diamond but still want to give their partner a show-stopping piece. Some of the best diamond shapes with halo settings are ovals and cushion cut diamonds.
4. Avoid designer labels.
If you haven't figured it out already, the rings shown on television commercials are typically the most expensive. That's not only because they're pretty, it's also because they're from a designer label. The wedding jewelry world is much like many other elite establishments — expensive. Even most of the photos on her secret Pinterest board (that you definitely know about and have seen her pinning inspiration pictures to) are of rings with a multi-thousand-dollar price tag. By going with a ring that isn't from one of the designer labels, you can save a lot of money, potentially thousands. There's virtually no difference between the quality of the rings from the designer brands and the standard brands the local jewelry store offers.
5. Consider lab-created or even gemstones.
Just because the stones aren't found from bedrock doesn't mean the ring is any less special. Your significant other is marrying you, not the ring. What matters most is that you're taking that next step in your relationship together. Choosing a lab-created diamond (also known as cubic zirconia) or even a gemstone can significantly cut costs without making you lose out on a beautiful piece. Gemstones are great for those who prefer something different from the norm. Whether you give them something with both your birthstones, the stone of your anniversary month or even their favorite color, it's a great alternative to the costly real diamond. Lab-created gemstones are significantly less expensive than naturally occurring ones, as well.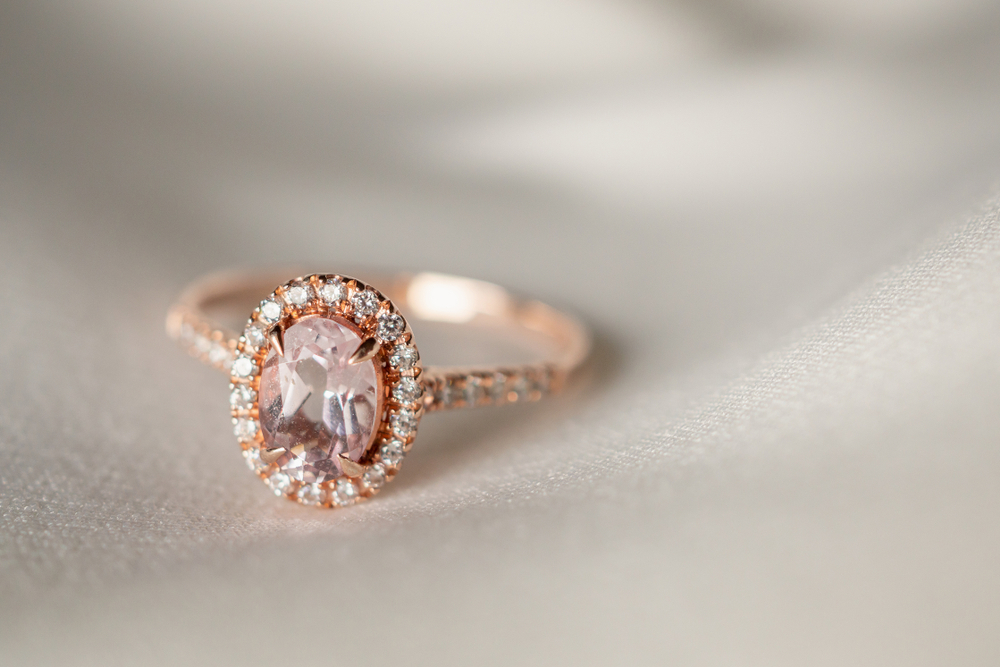 Source: Kwangmoozaa/Shutterstock.com
6. See if any family is willing to donate a diamond.
In some families, there are heirloom pieces that are passed down from generation to generation. Before going out and spending thousands on a brand new ring, consider asking your family and your partner's family if there are any pieces or even center stones you can use. Some will save the center diamonds because they are more valuable, while others will save the settings so future users can make the ring more their own. This is a great way to show your partner's family that you're serious about them — being willing to bring something from your partner's family into your relationship makes a bold statement about your intentions. How could they say no?
7. Go with a simple band for now. Then, get something more opulent later on.
Who says engagement rings have to be fancy? It's enough that you want to take the next step with your partner. A simple band — such as a silicone wedding band for women — is just as worthy of being an engagement ring as anything else. Get your partner a solid band, or even a band with a loving message engraved on the inside, for now, and then get them something more opulent later on. That way, you have something to propose with, but you don't run yourself ragged worrying that it isn't enough. Your partner will just be happy that you're engaged. They might not even want to wear a larger diamond ring!
Takeaway: Rare Carat Diamonds has all your needs in one place. A wide range of exclusive diamond rings and other precious jewelry.
8. Establish your budget early on.
A good jeweler is one who will show you the best options for your budget. Be honest with the salesperson — and yourself. You know what you can realistically afford, and so do they. Good jewelers don't want you to buy a ring that's more than you can afford. When you go delinquent on payments and the ring gets repossessed, that counts against the jeweler! A good jeweler will want to see you walk away with a ring that's well within your budget because it means they'll only see you back to trade your piece in and upgrade it in the years to come.