If only we all had Cinderella's fairy godmother at our beck and call. Only then could we do away with posts like this and have the perfect evening gown at the mere wave of a wand. Unfortunately, we can't have a silver ballgown on a silver platter, but we can guide you to finding the perfect evening gown. All it takes is a little knowledge of different dress codes across different occasions, as well as awareness of your own personal style and preferences.
Let us guide you through the nitty-gritty, and who knows? By the end of this, you may know enough to be your own personal fairy godmother!
Take note of the occasion and its dress code
When you receive an invitation to an event, where do your eyes go first? To the dress code, of course! And, as you hold the invitation in your hot little hands, you may be lucky enough to read dress code: formal, dress code: black-tie, or something similar to this. (If yours said dress code: white-tie, who are you and when can we visit your mansion?) If the dress code reads 'cocktail' or anything lower on the dress code hierarchy, then you may need to forgo the evening gown in favour of an (admittedly gorgeous) evening dress about midi-length. If the dress code reaches higher levels of formality, this is when you can break out your best evening gown!
Although we would normally advise you to go for your favourite frock with your favourite features at the expense of practicality, we're going to reconsider our glass slippers and back up a bit. After all, even footwear of the 'perfect' fit can fall off in a flurried frenzy—apparently. (Take this for what you will—be it a plot hole or as advice not to sprint in footwear made from the heaviest, least flexible, most hazardous material you could conjure up. Um, OHS issues much, Fairy Godmother? You could have used literally any other material.)


Exhibit A: the Arwen gown—gorgeous and maneuverable. Exhibit B: the Ramona Sequin Gown—jaw-dropping yet floor-dropping, ergo easily caught under dining chairs. Images: Alamour The Label
Before making the final decision, consider the structure of your evening event. For example, if you'll be shifting from venue to venue—perhaps preluding the main course with dinner—consider investing in something maneuverable. The last thing you'll want is to catch your train under a waiter's foot or under your (or, worse—someone else's!) dining chair. Similarly, if you're going to be spending the 'prevening' outside, perhaps consider a gown compatible with the outdoors. The dress code, the setting, and the whole structure of the evening: take it all into account.
Choose complementary colours
Not all gowns are gonna suit all girls—and there's nothing wrong with this. We girls are an assorted box of chocolates bursting with different flavours and varying levels of cocoa—and, also, we are legit snacks. As a general rule, contrast is key: warmer colours suit lighter skin tones whilst colder colours will make warmer skin tones look hot! Factor hair colour into this, too.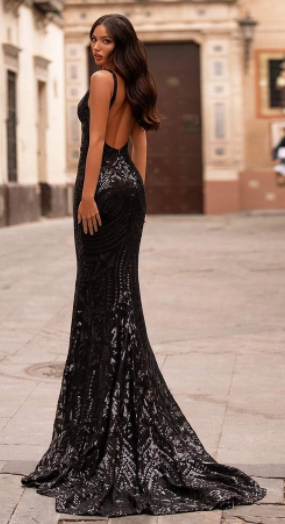 Images: Alamour The Label
One shade that defies this rule, however, is black. Anyone can look good in black! If you're unsure about your ideal shade, choose a black evening gown. Pop on some pearly jewellery and you've got yourself a classic look of class that you can't go wrong with.
Accessorise, accessorise, accessorise!
Every great piece of art deserves some finishing touches. If that artwork is you, then there's only one way to do it: with jewellery! (Mona Lisa really could have taken some accessorising tips from the Girl with the Pearl Earring.)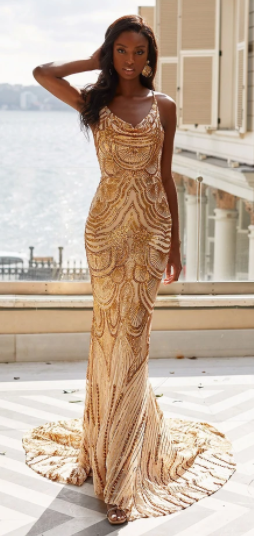 Exhibit A: the Alayna Gown is a textbook example of a gown that uses sequins to create patterns. You wouldn't want anything more than some minimalist metallic jewellery to finish this look. Image: Alamour The Label
We may sound like a broken record here, ladies, but we'll say it again: contrast is key. So, if you're wearing something elaborate like a sequinned gown or a gown featuring ornate patterns—or a gown that uses sequins to create ornate patterns, because this is a thing, too—then you can keep the jewellery minimalist. Shimmery sequins are not unlike bling themselves, so excessive accessories would only crowd the look.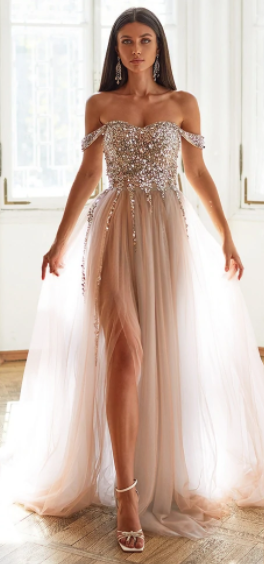 Exhibit B: the Yaritza Beaded Gown glitters so gracefully on its own, it would need little more than some diamond-drop earrings to look its beauteous best. Image: Alamour The Label
On the other end of the spectrum, plain or single-toned gowns are an opportunity to break out the bling. Garnish those blank spaces with earrings, bracelets, necklaces and rings—and keep the good vibes going with belts, scarves, clutches, or even chokers. Whatever contrasts or brings out the best in your evening gown, pop it on (dress code permitting, of course)! Feeling unsure? Stick with neutrals, like the pearl jewellery discussed above, or even something diamond-encrusted.
That's a wrap
That about wraps it up, ladies! There isn't really too much to choosing the right evening gown. All you need to really do is read the dress code, factor in practical considerations (only if applicable, because nothing should really get in the way of a good-looking garment), choose your ideal colour, and then accessorise accordingly! Ultimately, this is your outfit, so you should make it your own. If you like what you see, then you're doing something right.