Can you use acrylic paint as nail polish? You might have witnessed that many art forms include acrylic paint which enhances the quality and colour of the art. But do you know the other uses of acrylic paint which involves makeup tips? If no then have a look below to find out the other art form using acrylic paint.
Here we are talking about using non-toxic acrylic paint as a nail polish that can be a great option for those who desire to paint their nails into vibrant and rich colours. Further, this is neat only because of its endless possibilities.
To begin with, whether you use normal nail polish or acrylic paint every nail polis requires a clear base on the nail and then followed by the colour. Acrylic paint provides richness and vibrancy in a colour that many famous people and artists prefer over regular nail paint. It also helps you to add creativity to your nails using different preferable colours. Also, it is a water-based solution so if you messed it up, it will be easy to take off even by using just the water.
With that said, acrylic paint will also give your nails a matte looking coat as it dries way too fast and adds a clear glossy coat on top. Now there are many things to consider and keep in mind before applying acrylic paint to your nails. Have a look at these points:
Will Acrylic Paint Damage My Nails?
You might be wondering if it will affect your nails or damage them in simple words. But you need to be assured of the effects of acrylic paint on nails. As acrylic paint is water-based and is non-toxic in nature so it is not harmful to nails and won't damage them.  But you need to be careful while taking off them and applying them after using a clear base on your nails.
On the other hand, it is important to remove the nail colour with a proper nail polish remover or by acetone. I personally use acetone and it is the easiest and quickest formula to take off the paint.
Can You Mix Acrylic Paint with Nail Polish?
To create your choice of custom colour, you can definitely mix various colours. All you need to do is to mix water-based acrylic for your custom colour and then apply it on top of your nail polish on the nails. Make sure to use it with a good coat after applying it to the nails and seal it.
But always remember to never mix it together as their chemical structure is totally different and the water in the paint will completely coagulate.
Read: What is Gel Nail Polish? How to Use? – Pros & Cons
However, the best thing about mixing nail polish and acrylic paint are that can you simply create any colour you desire.
Pros and Cons of Using Acrylic Paint As Nail Polish
Of course, there are some pros and cons which you need to know before applying them.
Pros
Can be mixed to create any colour
Easy to apply and for a custom colour
Easier to paint designs with acrylic paint
Ideal option for the beginners
Cons
Doesn't dry as quickly as nail polish
Thicker than the normal nail polish
Tends to be streaky when not working on canvas
Require a nice top coat to dry it completely
Let's have a look at some of the pros and cons of using acrylic paint as nail polish and then use it with care and caution.
Acrylic Paint Doesn't Dry Up Immediately
The acrylic paint usually comes as water-based which take a bit of time to get dry as compared to nail polish. As the regular nail polish is designed to be quick-drying and relatively thin made with isopropyl alcohols and acetates. Nail polish dries up pretty quickly than acrylic paint water does not dry as quickly as these drying agents.
You Can Make Any Colour
The best quality of using acrylic paint  is that it can be mixed with regular nail polish colour to create any shade you want. So, as long as you have your three primary shades viz. red, yellow and blue with black and white, you can simply create any colour out of it. For that, you can give a try to acrylic paint as you can easily make a colour that you don't have in your nail polish collection.
It's Easier to Paint Designs With Acrylic Paint
As acrylic paint isn't made with alcohols and acetates, it is easier to paint or design your nail with. When you try to make a design with nail polish it often turns lumpy with its quickly-drying properties. Further, it can also be used as a topcoat over your base colour to make it completely dry and match the shade you want.
Read: How Does Gel Nails Work? – The Perfect Solution For Shiny Nails
The Downsides
There are other downsides of using acrylic paint as nail polish among which the main one is its opacity. As mentioned above, when not working on the canvas the acrylic paint tends to be streaky by many users. The problem of the opaqueness of the paint can only be cured through multiple coats or painting it in a crosshatched pattern. Further, apply the nice topcoat only when the paint is fully dried if you don't want your nail art to be streaky.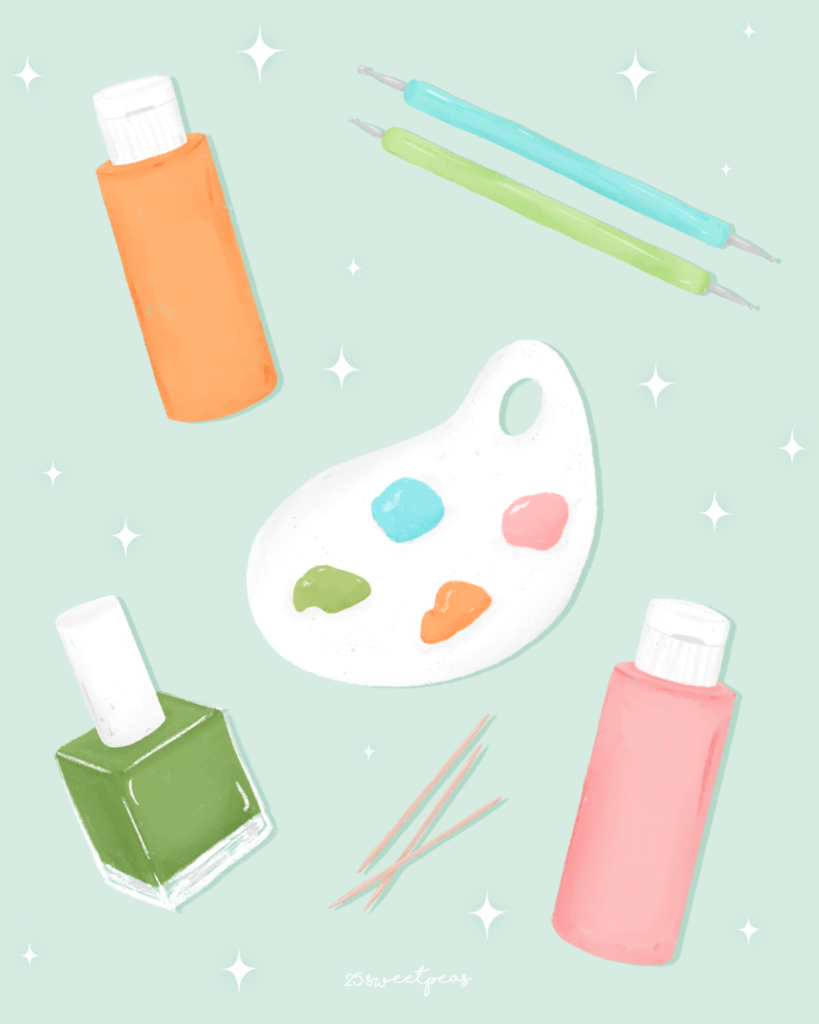 Comparing to classic manicure, nail wraps are way cheaper. They last longer and don't require as much maintenance. Someone could start by getting a simple manicure with polish painted on the nails, then add the nail wraps when they are ready for more creative colour combinations.
Conclusion
All in all, one cam simply uses acrylic paint as an alternative to nail polish or along with their nail polish to create some good and creative designs and shades. Therefore, many nail artists prefer acrylic paint to create amazing nail art and it is also not harmful to the nails.